In honor of St. Patrick's Day here are three yummy Irish Margarita's
Irish Margarita
1/2 ounce creme de menthe
2 ounces tequila
1/2 ounce triple sec
2 ounces prepared sweet-and-sour mix
DIRECTIONS
Combine creme de menthe, tequila, and Triple Sec in a shaker and shake.
Pour into margarita glass with ice and top with Sweet and Sour.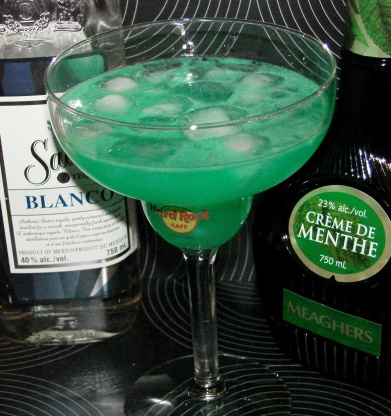 Baileys Irish Margarita
Ingredients
1-1/2 ounces Baileys Irish Cream with Coffee
3/4 ounce Anejo tequila
1 scoop vanilla ice cream
3/4 ounce half-and-half
Directions
Place all of the ingredients into a blender along with a handful of ice. Process the mixture until smooth and then transfer to a tall cocktail glass. Serve immediately.
Jameson Irish Margarita
1.25 parts Jameson Irish Whiskey
.5 part Hiram Walker Triple Sec
2 parts Margarita Mix
1 part Water
Shake vigorously and strain into glass with ice.
Enjoy and Happy Saint Patrick's Day